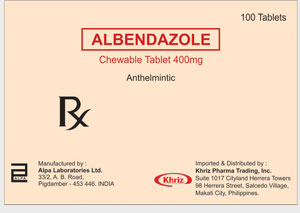 ALBENDAZOLE



Mechanism of Action
Albendazole exhibits a broad-spectrum anthelmintic activity showing vermicidal, ovicidal and larvicidal actions. It inhibits tubulin polymerization in the parasite and blocks glucose uptake; energy levels are reduced resulting to death of the parasite. Susceptible parasites include hookworm, roundworm, threadworm, whipworm, tapeworm, strongyloides, opisthorchis and hydatid disease (Echinococcus).

Absorption: Poorly absorbed from the GI tract (oral).

Distribution: Widely distributed; bile, CSF. Protein-binding: 70%

Metabolism: Extensive hepatic first-pass metabolism; converted to albendazole sulfoxide.

Excretion: Via bile; via urine (small amounts). 8.5 hr (elimination half-life).

MIMS Class: Anthelmintics

ATC Classification: P02CA03 -  albendazole;  Belongs to the class of benzimidazole derivative agents. Used as antinematodal.
Reference: mims


| | |
| --- | --- |
| | Watch out for our new products. Coming out soon. |